Naya Legend of the Golden Dolphin (2022)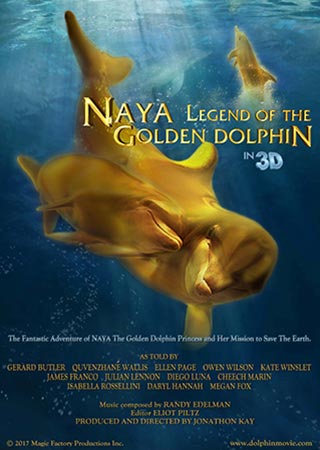 SUMMARY
NAYA LEGEND OF THE GOLDEN DOLPHIN is the fantastic story of NAYA The Golden Dolphin Princess (Academy Award Nominee Quvenzhané Wallis) whose father King of the Golden Dolphins (Gerard Butler) sends her on mission to eight corners of the world to unite all the dolphins and save the oceans. The Earth is in trouble and the dolphins all over the world are in danger. The adventure of the Golden Dolphin Princess takes her to the eight regions of the Earth that are rich and fluid with dolphin energy. In each region, there is a magical porthole which NAYA journeys through. NAYA must find a special treasure in each country, to share with humans. As a Golden Dolphin, NAYA has the magical ability to shape shift in to any form, blending in with each Dolphin Tribe along the way, becoming one with them.
Touched with humor and alive with thrills, breathtaking cinematography captures the incredible beauty and staggering you are there incredible adventure of NAYA Princess of the Golden Dolphins, through the oceans of Hawaii, The Bahamas, Canada, Australia, New Zealand, South Africa, Mozambique, and the Amazon River of Brazil.
Predators hunt NAYA, pollution of the ocean environment endangers her, but this intelligent being bravely continues her mission as the guardian of the sea.
CAST
Elliot Page … Dusky (voice)
Gerard Butler … King Kula (voice)
Kate Winslet … Cupid (voice)
Megan Fox … Princess Leilani (voice)